This one is for the books out this week. The post titled YA Books Out Last Week is for the books that came out last week that I didn't post because of my stupid laptop. Basically, I'm bringing you double the books! I hope you enjoy!
Bad Luck Girl
by Sarah Zettel
WARNING- THIRD BOOK!
Fans of Libba Bray's

The Diviners

will love the blend of fantasy and jazz-hot Chicago in this stylish series.

After rescuing her parents from the Seelie king at Hearst Castle, Callie is caught up in the war between the fairies of the Midnight Throne and the Sunlit Kingdoms. By accident, she discovers that fairies aren't the only magical creatures in the world. There's also Halfers, misfits that are half fairy and half other--laced with strange magic and big-city attitude. As the war heats up, Callie's world falls apart. And even though she's the child of prophecy, she doubts she can save the Halfers, her people, her family, and Jack, let alone herself. The fairies all say Callie is the Bad Luck Girl, and she's starting to believe them.

A strong example of diversity in YA, the American Fairy Trilogy introduces Callie LeRoux, a half-black teen who stars in this evocative story full of American history and fairy tales.
Divided
by Elsie Chapman
WARNING- SEQUEL!
The hunter becomes the hunted. . . .
West Grayer is done killing. She defeated her Alternate, a twin raised by another family, and proved she's worthy of a future. She's ready to move on with her life.
The Board has other plans. They want her to kill one last time, and offer her a deal worth killing for. But when West recognizes her target as a ghost from her past, she realizes she's in over her head. The Board is lying, and West will have to uncover the truth of the past to secure her future.
How far will the Board go to keep their secrets safe? And how far will West go to save those she loves? With nonstop action and surprising twists, Elsie Chapman's intoxicating sequel to Dualed reveals everything.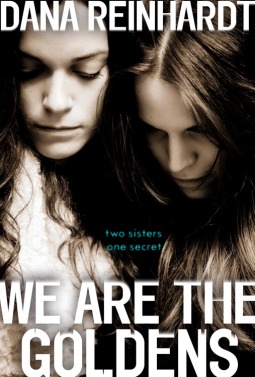 We Are the Goldens
by Dana Reinhardt
Nell knows a secret about her perfect, beautiful sister Layla. If she tells, it could blow their world apart.
When Nell and Layla were little, Nell used to call them Nellaya. Because to Nell, there was no difference between where she started and her adored big sister ended. They're a unit; divorce made them rely on each other early on, so when one pulls away, what is the other to do? But now, Nell's a freshman in high school and Layla is changing, secretive. And then Nell discovers why. Layla is involved with one of their teachers. And even though Nell tries to support Layla, to understand that she's happy and in love, Nell struggles with her true feelings: it's wrong, and she must do something about it.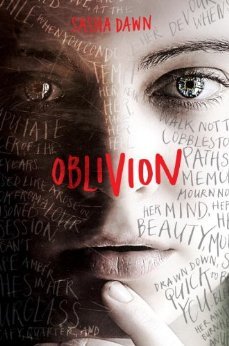 Oblivion
by Sasha Dawn
Lisa McMann's
Dead to You
meets Kate Ellison's
The Butterfly Clues
in a psychological thriller full of romance, intrigue, and mystery.
One year ago, Callie was found in an abandoned apartment, scrawling words on the wall: "I KILLED HIM. His blood is on my hands. His heart is in my soul. I KILLED HIM." But she remembers nothing of that night or of the previous thirty-six hours. All she knows is that her father, the reverend at the Church of the Holy Promise, is missing, as is Hannah, a young girl from the parish. Their disappearances have to be connected and Callie knows that her father was not a righteous man.
Since that fateful night, she's been plagued by graphomania -- an unending and debilitating compulsion to write. The words that flow from Callie's mind and through her pen don't seem to make sense -- until now.
As the anniversary of Hannah's vanishing approaches, more words and memories bubble to the surface and a new guy in school might be the key to Callie putting together the puzzle. But digging up the secrets she's buried for so long might be her biggest mistake.
Muse
by Rebecca Lim
WARNING- THIRD BOOK!
Mercy is an angel in exile, and she's doomed to return to Earth, over and over again, each time taking on a new human form. Now she is thrust into the excessive world of fashion, when she awakens in the body of a troubled Russian supermodel, Irina. Hot-tempered and known to dabble in things she shouldn't, Irina is on the verge of a very public breakdown.
Against the glamorous background of Milan, Mercy continues her desperate search for Ryan, while still drawn to Luc, her longtime love. But now, Mercy is aware that her memories and powers are growing stronger-and she begins to doubt Luc as more of her mysterious past is revealed. Are Luc's desires as selfless as her own, or does he want her for a more terrifying purpose?
The grand-scale celestial battle for Mercy's soul builds to an astonishing crescendo in the third book in the enthralling MERCY series, as archangels and demons clash in a cataclysmic showdown that not all will survive.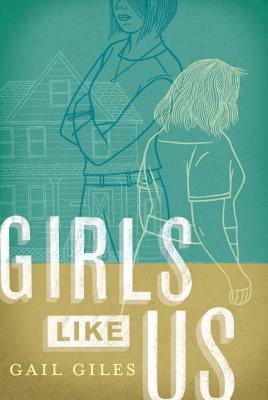 Girls Like Us
by Gail Giles
With gentle humor and unflinching realism, Gail Giles tells the gritty, ultimately hopeful story of two special ed teenagers entering the adult world.
We understand stuff. We just learn it slow. And most of what we understand is that people what ain't Speddies think we too stupid to get out our own way. And that makes me mad.
Quincy and Biddy are both graduates of their high school's special ed program, but they couldn't be more different: suspicious Quincy faces the world with her fists up, while gentle Biddy is frightened to step outside her front door. When they're thrown together as roommates in their first "real world" apartment, it initially seems to be an uneasy fit. But as Biddy's past resurfaces and Quincy faces a harrowing experience that no one should have to go through alone, the two of them realize that they might have more in common than they thought — and more important, that they might be able to help each other move forward.
Hard-hitting and compassionate,
Girls Like Us
is a story about growing up in a world that can be cruel, and finding the strength — and the support — to carry on.
Surrounded by Sharks
by Michael Northrop
A thrilling survival story from Michael Northrop, the acclaimed author of TRAPPED.
He couldn't sleep. That's how it all started.
When Davey wakes, just as the sun is rising, he can't wait to slip out of the crammed hotel room he's sharing with his family. Leave it to his parents and kid brother to waste an entire day of vacation sleeping in! Davey heads straight for the beach, book and glasses in hand, not bothering to leave a note. As the sparkling ocean entices him, he decides to test the water, never mind that "No Swimming" sign. But as the waves pull him farther from shore, Davey finds himself surrounded by water -- and something else, too. Something circling below the surface, watching, waiting. It's just a matter of time.
Allies & Assassins
by Justin Somper
Prince Anders, the ruler of Archenfield, has been murdered, leaving his younger brother, Jared, to ascend the throne. Sixteen-year-old Jared feels unprepared to rule the kingdom and its powerful and dangerous court, yet he knows he can rely on the twelve officers of the court to advise him. He also knows he can just as easily be at their mercy-especially when it appears that one of them may be responsible for his brother's death. Unable to trust anyone, Jared takes it upon himself to hunt down his brother's killer-but the killer may be hunting him, as well. Murder, betrayal, and intrigue abound in Justin Somper's thrilling YA series debut. Exploring the political machinations of the medieval court and the lives that hang in the balance,
Allies & Assassins
is a gripping tale of a teen torn between duty and revenge.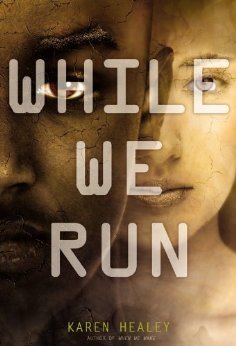 While We Run
by Karen Healey
WARNING- SEQUEL!
Abdi Taalib thought he was moving to Australia for a music scholarship. But after meeting the beautiful and brazen Tegan Oglietti, his world was turned upside down. Tegan's no ordinary girl - she died in 2027, only to be frozen and brought back to life in Abdi's time, 100 years later.
Now, all they want is for things to return to normal (or as normal as they can be), but the government has other ideas. Especially since the two just spilled the secrets behind Australia's cryonics project to the world. On the run, Abdi and Tegan have no idea who they can trust, and when they uncover startling new details about Project Ark, they realise thousands of lives may be in their hands.
A suspenseful, page-turning sequel to When We Wake that will keep readers on the edge of their seats and make them call into question their own ideas about morality - and mortality, too.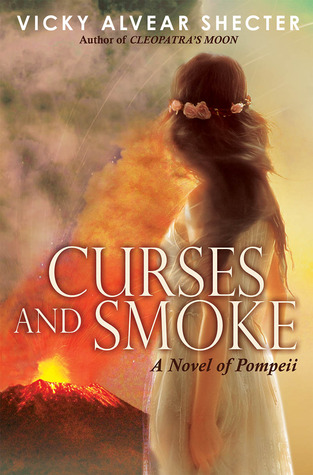 Curses and Smoke: A Novel of Pompeii
by Vicki Alvear Shecter
When your world blows apart, what will you hold onto?
TAG is a medical slave, doomed to spend his life healing his master's injured gladiators. But his warrior's heart yearns to fight in the gladiator ring himself and earn enough money to win his freedom.
LUCIA is the daughter of Tag's owner, doomed by her father's greed to marry a much older Roman man. But she loves studying the natural world around her home in Pompeii, and lately she's been noticing some odd occurrences in the landscape: small lakes disappearing; a sulfurous smell in the air. . . .
When the two childhood friends reconnect, each with their own longings, they fall passionately in love. But as they plot their escape from the city, a patrician fighter reveals his own plans for them -- to Lucia's father, who imprisons Tag as punishment. Then an earthquake shakes Pompeii, in the first sign of the chaos to come. Will they be able to find each other again before the volcano destroys their whole world?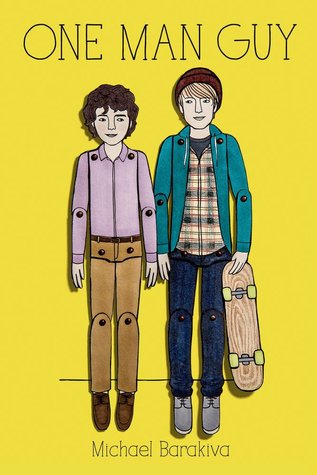 One Man Guy
by Michael Barakiva
Funny and heartfelt, One Man Guy serves up the raucous family humor and gentle romance of My Big Fat Greek Wedding, as told with David Sedaris–style wit
Alek Khederian should have guessed something was wrong when his parents took him to a restaurant. Everyone knows that Armenians never eat out. Between bouts of interrogating the waitress and criticizing the menu, Alek's parents announce that he'll be attending summer school in order to bring up his grades. Alek is sure this experience will be the perfect hellish end to his hellish freshman year of high school. He never could've predicted that he'd meet someone like Ethan.
Ethan is everything Alek wishes he were: confident, free-spirited, and irreverent. He can't believe a guy this cool wants to be his friend. And before long, it seems like Ethan wants to be more than friends. Alek has never thought about having a boyfriend—he's barely ever had a girlfriend—but maybe it's time to think again.
Guy in Real Life
by Steve Brezenoff
From the acclaimed author of Brooklyn, Burning comes Guy in Real Life, an achingly real and profoundly moving love story about two Minnesota teens whose lives become intertwined through school, role-playing games, and a chance two-a.m. bike accident.
It is Labor Day weekend in Saint Paul, Minnesota, and boy and girl collide on a dark street at two thirty in the morning: Lesh, who wears black, listens to metal, and plays MMOs; Svetlana, who embroiders her skirts, listens to Björk and Berlioz, and dungeon masters her own RPG. They should pick themselves up, continue on their way, and never talk to each other again.
But they don't.
This is a story of two people who do not belong in each other's lives, who find each other at a time when they desperately need someone who doesn't belong in their lives. A story of those moments when we act like people we aren't in order to figure out who we are. A story of the roles we all play-at school, at home, with our friends, and without our friends-and the one person who might show us what lies underneath it all.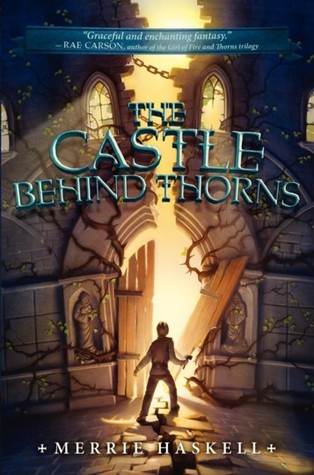 The Castle Behind Thorns
by Merrie Haskell
A magical adventure set in an enchanted castle that is sure to appeal to fans of Gail Carson Levine, Karen Cushman, and Shannon Hale
When Sand wakes up alone in a long-abandoned castle, he has no idea how he got there. The stories all said the place was ruined by an earthquake, and Sand did not expect to find everything inside-from dishes to candles to apples-torn in half or slashed to bits. Nothing lives here and nothing grows, except the vicious, thorny bramble that prevents Sand from leaving. Why wasn't this in the stories?
To survive, Sand does what he knows best-he fires up the castle's forge to mend what he needs to live. But the things he fixes work somehow better than they ought to. Is there magic in the mending, granted by the saints who once guarded this place?
Unexpectedly, Sand finds the lost heir, Perrotte, a girl who shares the castle's astonishing secrets and dark history. Putting together the pieces-of stone and iron, and of a broken life-is harder than Sand ever imagined, but it's the only way to gain their freedom, even with the help of the guardian saints.
With gorgeous language and breathtaking magic, Merrie Haskell's The Castle Behind Thorns tells of the power of memory and story, forgiveness and strength, and the true gifts of craft and imagination.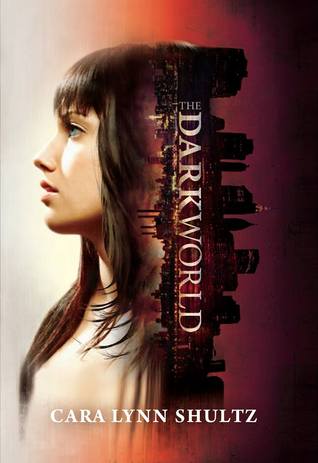 The Dark World
by Cara Lynn Shultz
Paige Kelly is used to weird--in fact, she probably corners the market on weird, considering that her best friend, Dottie, has been dead since the 1950s. But when a fire demon attacks Paige in detention, she has to admit that things have gotten out of her league. Luckily, the cute new boy in school, Logan Bradley, is a practiced demon slayer-and he isn't fazed by Paige's propensity to chat with the dead. Suddenly, Paige is smack in the middle of a centuries-old battle between warlocks and demons, learning to fight with a magic sword so that she can defend herself. And if she makes one wrong move, she'll be pulled into the Dark World, an alternate version of our world that's overrun by demons-and she might never make it home.
Played
by Liz Fichera
WARNING- SEQUEL!
This Game Is Getting All Too Real

He said:
I like to keep under the radar and mostly hang out with my friends from the rez. But when I saved Riley Berenger from falling off a mountain, that rich suburban princess decided to try to save me.
She said:
If I can help Sam Tracy win the heart of the girl he can't get over, I'll pay him back for helping me. I promised him I would, no matter what it takes.
The Girl with the Windup Heart
by Kady Cross
WARNING- FOURTH BOOK!
In 1897 London, a final showdown is about to begin.
London's underworld is no place for a young woman, even one who is strong, smart and part-automaton like Mila. But when master criminal Jack Dandy inadvertently breaks her heart, she takes off, determined to find an independent life, one entirely her own. Her search takes her to the spangled shadows of the West End's most dazzling circus.
Meanwhile, taken captive in the Aether, Griffin King is trapped in an inescapable prison, and at the mercy of his archenemy, The Machinist. If he breaks under the hellish torment, The Machinist will claim his powers and control of the Aether itself, and no one in either world will be safe-especially not Finley Jayne and her misfit band of friends.
Finley plunges headlong into the Aether the only way she knows how, by temporarily dying. But she cannot parry The Machinist's maneuvers for long. To defeat him for good, Griffin will have to confront his greatest fear and finally come face-to-face with the destructive power he wields.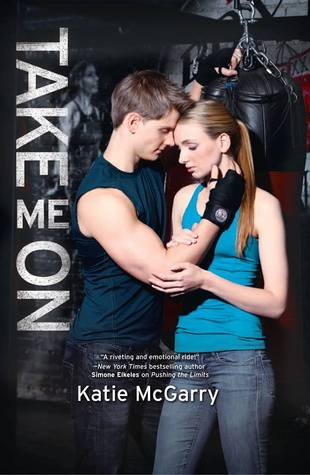 Take Me On
by Katie McGarry
WARNING- FOURTH BOOK!
Acclaimed author Katie McGarry returns with the knockout new story of two high school seniors who are about to learn what winning really means.
Champion kickboxer Haley swore she'd never set foot in the ring again after one tragic night. But then the guy she can't stop thinking about accepts a mixed martial arts fight in her honor. Suddenly, Haley has to train West Young. All attitude, West is everything Haley promised herself she'd stay away from. Yet he won't last five seconds in the ring without her help.
West is keeping a big secret from Haley. About who he really is. But helping her-fighting for her-is a shot at redemption. Especially since it's his fault his family is falling apart. He can't change the past, but maybe he can change Haley's future.
Hayley and West have agreed to keep their relationship strictly in the ring. But as an unexpected bond forms between them and attraction mocks their best intentions, they'll face their darkest fears and discover love is worth fighting for.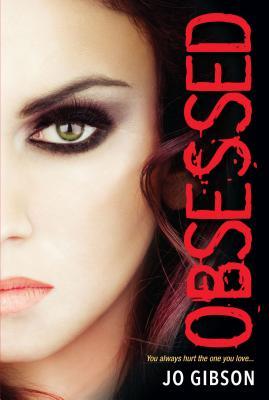 Obsessed
by Jo Gibson
From master of suspense Jo Gibson comes two heart-stopping novels of romantic obsession--where the love never dies. It kills. . .
The Crush
Michael Barton is smart, sweet, gorgeous--the total package. Which is why some of the girls have decided to have a little contest. Whoever hooks up with Michael first will be the winner. There's just one problem. One of the girls has been harboring a secret crush on Michael for years. She'll do anything to be his girlfriend. She'll play the game. She'll win his heart. She'll beat the competition. . .to death.
The Crush II
Michael Barton has experienced the dark side of love. He has survived the advances of a psychotic stalker. He has endured her deadly game of obsession. And now he is free from her web of lust and lies. But Michael has a surprise waiting for him. His secret admirer is still out there. Watching. Waiting. Plotting her next move. And if Michael thinks he can escape her this time, he's wrong. . .dead wrong.
Ignited
by Corrine Jackson
WARNING- THIRD BOOK!
Nobody hides forever.
Ever since Remy O'Malley discovered her dual identity as a Healer and a Protector, she's kept alive by staying one step ahead of both sides in this centuries-old war. Now someone's trying to draw her out of hiding, using her kidnapped father as bait.
To save him, Remy will need every friend she's got. But as new alliances form, old bonds fray. Her boyfriend Asher is losing his powers, becoming more mortal every time she touches him. Meanwhile, Remy finds herself growing closer to Asher's brother Gabe, even as a family tragedy drives her sister Lucy farther away.
On a rescue mission to London, Remy decides she's tired of being the hunted. It's time to end this war once and for all, as Protectors and Healers alike hurtle towards a final, violent confrontation that not everyone will survive.
Guardian
by Alex London
WARNING- SEQUEL!
The pulse-pounding sequel to Proxy! Inspired by The Whipping Boy and Feed, this adrenaline-fueled thriller will appeal to fans of The Hunger Games and Divergent.
In the new world led by the Rebooters, former Proxy Syd is the figurehead of the Revolution, beloved by some and hated by others. Liam, a seventeen-year-old Rebooter, is Syd's bodyguard and must protect him with his life. But armed Machinists aren't the only danger.
People are falling ill—their veins show through their skin, they find it hard to speak, and sores erupt all over their bodies. Guardians, the violent enforcers of the old system, are hit first, and the government does nothing to help. The old elites fall next, and in the face of an indifferent government, Syd decides it's up to him to find a cure . . . and what he discovers leaves him stunned.
This heart-stopping thriller is packed with action, adventure, and heroics. Guardian will leave you breathless until the final page.
A fast-paced, thrill-ride of novel full of non-stop action, heart-hammering suspense and true friendship—just as moving as it is exhilarating. Fans of Anthony Horowitz's Alex Rider series, James Dashner's Maze Runner, Patrick Ness's Chaos Walking series, and Marie Lu's Legend trilogy will be swept away by this story.