This is my last post before I go on vacation. Everything's been so hectic that I haven't been able to go to the library so there won't be an In My Mailbox this week. However, I'm posting the YA Books Out This Week two days early so you can see what books come out. I hope you all have an amazing week!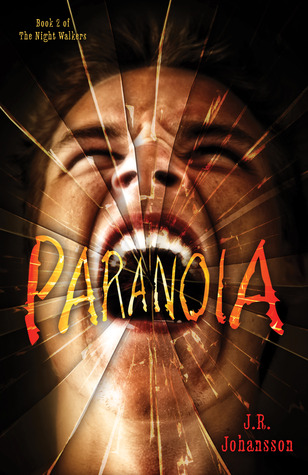 Paranoia
by J.R. Johansson
WARNING- SEQUEL!
In the aftermath of the events that nearly killed him, Parker Chipp is trying to learn to cope better with life as a Watcher. And it seems to be working...until he wakes up in jail with a hangover and 12 hours of missing time. Darkness has somehow taken control and Parker doesn't have a clue how to stop him. He finds an unlikely ally in Jack, the mysterious guy in the motorcycle jacket who offers to help Parker master his abilities as a Watcher. But even as they practice, the darkness inside Parker is getting more and more powerful, taking over Parker's body and doing everything he can to destroy Parker's life.
When Jack reveals that there is another kind of Night Walker, known as a Taker, Parker starts to wonder if the strange things happening in Oakville are more than just a coincidence. After all, people are more than just sleepwalking. They're emptying their savings accounts with no memory of doing so, wandering into strange parts of town and disappearing, they're even killing other people--all in their sleep. If Parker wants to find out what's happening or have any hope of seeing his father again, he'll have to defy Jack and put his own life in danger...because the more he learns about these other Night Walkers, the more certain he becomes that his life isn't the only one that could be lost.
The Truth Against the World
by Sarah Jamila Stevenson
When Olwen Nia Evans learns that her family is moving from San Francisco to Wales to fulfill her great-grandmother's dying wish, she starts having strange and vivid dreams about her family's past. But nothing she sees in her dreams of the old country--the people, the places--makes any sense. Could it all be the result of an overactive imagination . . . or could everything she's been told about her ancestors be a lie?
Once in Wales, she meets Gareth Lewis, a boy plagued by dreams of his own--visions he can't shake after meeting a ghost among the misty cairns along the Welsh seaside.
A ghost named Olwen Nia Evans.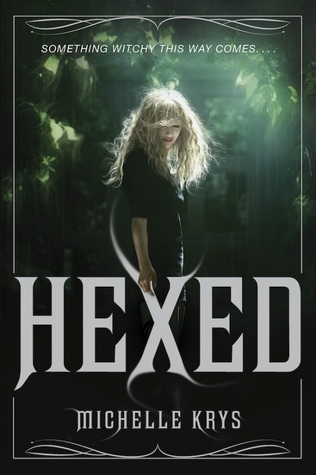 Hexed
by Michelle Krys
If high school is all about social status, Indigo Blackwood has it made. Sure, her quirky mom owns an occult shop, and a nerd just won't stop trying to be her friend, but Indie is a popular cheerleader with a football-star boyfriend and a social circle powerful enough to ruin everyone at school. Who wouldn't want to be her?
Then a guy dies right before her eyes. And the dusty old family Bible her mom is freakishly possessive of is stolen. But it's when a frustratingly sexy stranger named Bishop enters Indie's world that she learns her destiny involves a lot more than pom-poms and parties. If she doesn't get the Bible back, every witch on the planet will die. And that's seriously bad news for Indie, because according to Bishop, she's a witch too.
Suddenly forced into a centuries-old war between witches and sorcerers, Indie's about to uncover the many dark truths about her life—and a future unlike any she ever imagined on top of the cheer pyramid.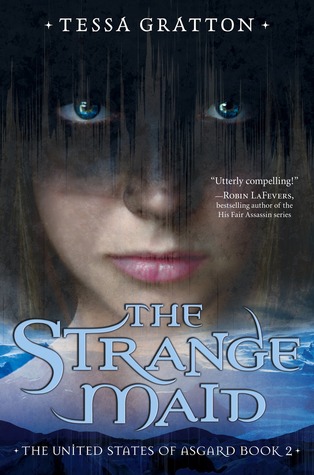 The Strange Maid
by Tessa Gratton
WARNING- SEQUEL!
Fans of Neil Gaiman, Holly Black, and Maggie Stiefvater will embrace the richly drawn, Norse-influenced alternate world of the United States of Asgard, where cell phones, rock bands, and evangelical preachers coexist with dragon slaying, rune casting, and sword training in schools. Where the president runs the country alongside a council of Valkyries, gods walk the red carpet with Hollywood starlets, and the U.S. military has a special battalion dedicated to eradicating Rocky Mountain trolls.
Signy Valborn was seven years old when she climbed the New World Tree and met Odin Alfather, who declared that if she could solve a single riddle, he would make her one of his Valkyrie. For ten years Signy has trained in the arts of war, politics, and leadership, never dreaming that a Greater Mountain Troll might hold the answer to the riddle, but that's exactly what Ned the Spiritless promises her. A mysterious troll hunter who talks in riddles and ancient poetry, Ned is a hard man to trust. Unfortunately, Signy is running out of time. Accompanied by an outcast berserker named Soren Bearstar, she and Ned take off across the ice sheets of Canadia to hunt the mother of trolls and claim Signy's destiny.
Lies My Girlfriend Told Me
by Julie Anne Peters
When Alix's charismatic girlfriend, Swanee, dies from sudden cardiac arrest, Alix is overcome with despair. As she searches Swanee's room for mementos of their relationship, she finds Swanee's cell phone, pinging with dozens of texts sent from a mysterious contact, L.T. The most recent text reads: "Please tell me what I did. Please, Swan. Te amo. I love you."
Shocked and betrayed, Alix learns that Swanee has been leading a double life--secretly dating a girl named Liana the entire time she's been with Alix. Alix texts Liana from Swanee's phone, pretending to be Swanee in order to gather information before finally meeting face-to-face to break the news.
Brought together by Swanee's lies, Alix and Liana become closer than they'd thought possible. But Alix is still hiding the truth from Liana. Alix knows what it feels like to be lied to--but will coming clean to Liana mean losing her, too?
I Become Shadow
by Joe Shine
Ren Sharpe was abducted at fourteen and chosen by the mysterious F.A.T.E. Center to become a Shadow: the fearless and unstoppable guardian of a future leader. Everything she held dear—her family, her home, her former life—is gone forever.
Ren survives four years of training, torture, and misery, in large part thanks to Junie, a fellow F.A.T.E. abductee who started out as lost and confused as she did. She wouldn't admit it was possible to find love in a prison beyond imagining, but what she feels for Junie may just be the closest thing to it.
At eighteen they part ways when Ren receives her assignment: find and protect college science student Gareth Young, or die trying. Life following a college nerd is uneventful, until an attack on Gareth forces Ren to track down the only person she can trust. When she and Junie discover that the F.A.T.E. itself might be behind the attacks, even certain knowledge of the future may not be enough to save their kidnappers from the killing machines they created.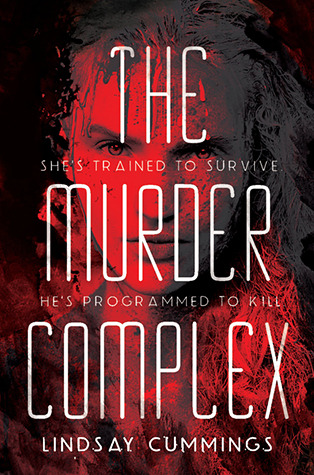 The Murder Complex
by Lindsay Cummings
An action-packed, blood-soaked, futuristic debut thriller set in a world where the murder rate is higher than the birthrate. For fans of Moira Young's Dust Lands series, La Femme Nikita, and the movie Hanna.
Meadow Woodson, a fifteen-year-old girl who has been trained by her father to fight, to kill, and to survive in any situation, lives with her family on a houseboat in Florida. The state is controlled by The Murder Complex, an organization that tracks the population with precision.
The plot starts to thicken when Meadow meets Zephyr James, who is—although he doesn't know it—one of the MC's programmed assassins. Is their meeting a coincidence? Destiny? Or part of a terrifying strategy? And will Zephyr keep Meadow from discovering the haunting truth about her family?
Action-packed, blood-soaked, and chilling, this is a dark and compelling debut novel by Lindsay Cummings.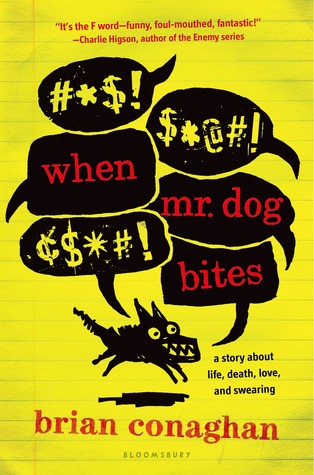 When Mr. Dog Bites
by Brian Conaghan
Dylan Mint has Tourette's. For Dylan, life is a constant battle to keep the bad stuff in – the swearing, the tics, the howling dog that escapes whenever he gets stressed. And, as a sixteen-year-old virgin and pupil at Drumhill Special School, getting stressed is something of an occupational hazard.
But then a routine visit to the hospital changes everything. Overhearing a hushed conversation between the doctor and his mother, Dylan discovers that he's going to die next March.
So he grants himself three parting wishes: three 'Cool Things To Do Before I Cack It'.
It isn't a long list, but it is ambitious, and he doesn't have much time. But as Dylan sets out to make his wishes come true, he discovers that nothing – and no-one – is quite as he had previously supposed.
A story about life, death, love, sex and swearing, When Mr Dog Bites will take you on one *#@! of a journey . . .
On the Road to Find Out
by Rachel Toor
A funny, uplifting debut about running, romance—and dealing with college rejection and other hurdles
On New Year's Day, Alice Davis goes for a run. Her first ever. It's painful and embarrassing, but so was getting denied by the only college she cares about. Alice knows she has to stop sitting around and complaining to her best friend, Jenni, and her pet rat, Walter, about what a loser she is. But what doesn't know is that by taking those first steps out the door, she is setting off down a road filled with new challenges—including vicious side stitches, chafing in unmentionable places, and race-paced first love—and strengthening herself to endure when the going suddenly gets tougher than she ever imagined.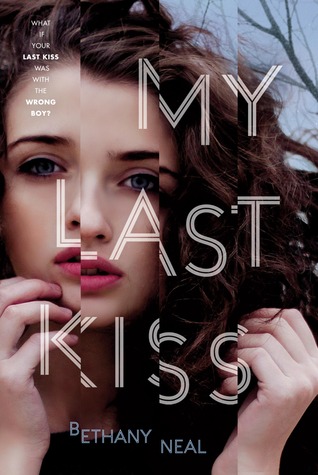 My Last Kiss
by Bethany Neal
What if your last kiss was with the wrong boy?
Cassidy Haines remembers her first kiss vividly. It was on the old covered bridge the summer before her freshman year with her boyfriend of three years, Ethan Keys. But her last kiss--the one she shared with someone at her seventeenth birthday party the night she died--is a blur. Cassidy is trapped in the living world, not only mourning the loss of her human body, but left with the grim suspicion that her untimely death wasn't a suicide as everyone assumes. She can't remember anything from the weeks leading up to her birthday and she's worried that she may have betrayed her boyfriend.
If Cassidy is to uncover the truth about that fateful night and make amends with the only boy she'll ever love, she must face her past and all the decisions she made--good and bad--that led to her last kiss.
Bethany Neal's suspenseful debut novel is about the power of first love and the haunting lies that threaten to tear it apart.
Trouble
by Non Pratt
In this dazzling debut novel, a pregnant teen learns the meaning of friendship—from the boy who pretends to be her baby's father.
When the entire high school finds out that Hannah Shepard is pregnant via her ex-best friend, she has a full-on meltdown in her backyard. The one witness (besides the rest of the world): Aaron Tyler, a transfer student and the only boy who doesn't seem to want to get into Hannah's pants. Confused and scared, Hannah needs someone to be on her side. Wishing to make up for his own past mistakes, Aaron does the unthinkable and offers to pretend to be the father of Hannah's unborn baby. Even more unbelievable, Hannah hears herself saying "yes."
Told in alternating perspectives between Hannah and Aaron, Trouble is the story of two teenagers helping each other to move forward in the wake of tragedy and devastating choices. As you read about their year of loss, regret, and hope, you'll remember your first, real best friend—and how they were like a first love.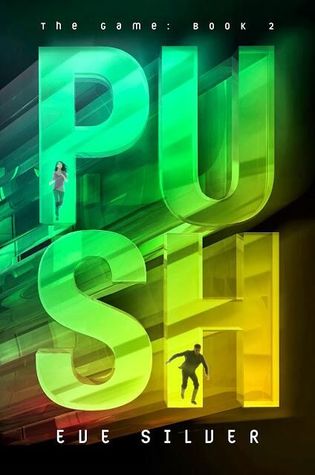 Push
by Eve Silver
WARNING- SEQUEL!
It's either break the rules or die.
Miki Jones lives her life by her own strict set of rules, to keep control, to keep the gray fog of grief at bay. Then she's pulled into the Game, where she—and her team—will die unless she follows a new set of rules: those set by the mysterious Committee.
But rules don't mean answers, and without answers, it's hard to trust. People are dying. The rules are unraveling. And Miki knows she's being watched, uncertain if it's the Drau or someone—something—else. Forced to make impossible choices and battling to save those she loves, Miki begins to see the Committee in a glaring new light.
And then the Game crosses a new boundary, pushes harder into Miki's and her friends' lives, and there's nothing in the rules that can save them now.
Push is the sequel Rush fans will be screaming for.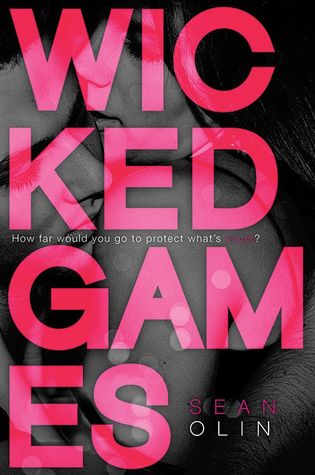 Wicked Games
by Sean Olin
Wicked Games
is the first book in a sexy thriller series where passion, lies, and revenge collide-perfect for fans of Simone Elkeles and Sara Shepard.
To all the locals in the small beach town of Dream Point, Carter and Lilah seem like the perfect It Couple-but their relationship is about to brutally unravel before everyone's eyes.
Carter has always been a good guy, and while Lilah has a troubled past, she's been a loyal girlfriend for the last four years. When smart, sexy Jules enters the picture at a senior-year bash, Carter succumbs to temptation. And when Lilah catches wind of his betrayal, she decides that Jules needs to pay.
By the end of the summer, the line between right and wrong will be blurred beyond recognition. Blood will be shed. Nothing in Dream Point will ever be the same.
This juicy summer read will keep readers turning pages until the shocking, nail-biting finale.
(Don't You) Forget About Me
by Kate Karyus Quinn
Welcome to Gardnerville.
A place where no one gets sick. And no one ever dies.
Except...
There's a price to pay for paradise. Every fourth year, the strange power that fuels the town exacts its payment by infecting teens with deadly urges. In a normal year in Gardnerville, teens might stop talking to their best friends. In a fourth year, they'd kill them.
Four years ago, Skylar's sister, Piper, was locked away after leading sixteen of her classmates to a watery grave. Since then, Skylar has lived in a numb haze, struggling to forget her past and dull the pain of losing her sister. But the secrets and memories Piper left behind keep taunting Skylar—whispering that the only way to get her sister back is to stop Gardnerville's murderous cycle once and for all.
Born of Deception
by Teri Brown
WARNING- SEQUEL!
Budding illusionist Anna Van Housen is on top of the world: after scoring a spot on a prestigious European vaudeville tour, she has moved to London to chase her dream and to join an underground society for people like her with psychic abilities. Along with her handsome beau, Cole Archer, Anna is prepared to take the city by storm.
But when Anna arrives in London, she finds the group in turmoil. Sensitives are disappearing and, without a suspect, the group's members are turning on one another. Could the kidnapper be someone within the society itself—or has the nefarious Dr. Boyle followed them to London?
As Cole and Anna begin to unravel the case and secrets about the society are revealed, they find themselves at odds, their plans for romance in London having vanished. Her life in danger and her relationship fizzling, can Anna find a way to track down the killer before he makes her his next victim—or will she have to pay the ultimate price for her powers?
Set in Jazz-Age London, this alluring sequel to Born of Illusion comes alive with sparkling romance, deadly intrigue, and daring magic.
Wings
by Elizabeth Richards
WARNING- THIRD BOOK!
Following the cliffhanger ending of Phoenix, Natalie finds herself separated from Ash and unexpectedly reunited with her parents, including the father she thought was dead. But she can only think of Ash. She hasn't heard a word of him since she and Elijah were brought to the underground headquarters of the Sentry Rebellion. But she vows to find him.
Ash, meanwhile is back in Black City; it's the perfect place to hide from the Sentry government. But not for long. He won't give up on Natalie or bringing an end to the terrible reign of Purian Rose.
A pulse-racing end to an exciting series.
Starbird Murphy and the World Outside
by Karen Finneyfrock
In her sixteen years of life, Starbird has never touched a dollar bill. She's never been in a car. She's never used a cell phone. That's because Starbird has always lived on the Free Family Farm, a commune in the woods of Washington State. But all that is about to change. When Starbird gets her "Calling" to be a waitress at the Free Family's restaurant in Seattle, she decides to leave behind the only home she's ever known.
Nothing could have prepared Starbird for the World Outside, or for what it would teach her about the Family—and herself.
From the author of
The Sweet Revenge of Celia Door
comes this hilarious and poignant story about finding your true calling in life.
Inland
by Kat Rosenfield
The psychological labyrinth of a young woman's insidious connection to the sea, from the Edgar Award nominated author of
Amelia Anne is Dead and Gone.
Callie Morgan has long lived choked by the failure of her own lungs, the result of an elusive pulmonary illness that has plagued her since childhood. A childhood marked early by the drowning death of her mother—a death to which Callie was the sole witness. Her father has moved them inland, away from the memories of the California coast her mother loved so much and toward promises of recovery—and the escape of denial—in arid, landlocked air.
But after years of running away, the promise of a life-changing job for her father brings Callie and him back to the coast, to Florida, where Callie's symptoms miraculously disappear. For once, life seems delightfully normal. But the ocean's edge offers more than healing air … it holds a magnetic pull, drawing Callie closer and closer to the chilly, watery embrace that claimed her mother. Returned to the ocean, Callie comes of age and comes into a family destiny that holds generations of secrets and very few happy endings.
Brazen
by Katherine Longshore
Mary Howard has always lived in the shadow of her powerful family. But when she's married off to Henry Fitzroy, King Henry VIII's illegitimate son, she rockets into the Tudor court's inner circle. Mary and "Fitz" join a tight clique of rebels who test the boundaries of court's strict rules with their games, dares, and flirtations. The more Mary gets to know Fitz, the harder she falls for him, but is forbidden from seeing him alone. The rules of court were made to be pushed…but pushing them too far means certain death. Is true love worth dying for?