A ton of books come out this week! I know I say that a lot, but 22 books come out this week. Can you believe it? And they sound really good! The suspense is killing me. Let's get to the books!
Bloodwitch
by Amelia Atwater-Rhodes
A gripping tale about loyalty, power, and the quest for freedom
Vance Ehecatl was raised with every luxury he could imagine in a beautiful greenhouse within the powerful empire of Midnight. Vampires are the only guardians Vance has ever known since he was abandoned by his shapeshifter family as a baby quetzal, and he is grateful to them for generously providing for all of his needs. When an act of violence forces Vance from his sheltered home, he is startled to meet Malachi Obsidian, a fellow shapeshifter with conflicting ideas about Midnight and its leader, Mistress Jeshickah.

Malachi claims Vance is a bloodwitch, who Jeshickah and her trainers, Jaguar and Taro, are trying to control. Vance doesn't know anything about the rare and destructive magic Malachi says he possesses, and he can't believe Jeshickah would use it to hurt others. But when his friends begin falling ill, Vance starts to realize his perfect world may not be as flawless as it seems. Now Vance must decide who to trust-the vampires he's always relied upon, or the shapeshifters who despise them.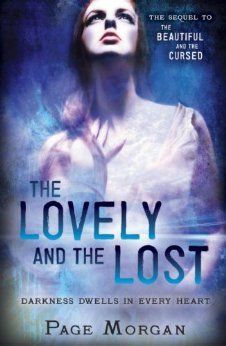 The Lovely and the Lost
by Page Morgan
WARNING- SEQUEL!
Ingrid and Gabby survived the Underneath. They saved their brother, Grayson, from a future of dark servitude and exposed a plot to undermine the Alliance. But danger still lurks in the streets of Paris, and the Dispossessed, perched on the city's bridges and rooftops, might not be able to save their human wards this time.
The Secrets of Tree Taylor
by Dandi Daley Mackall
Thirteen-year-old Tree Taylor has two goals for the summer of '63:

1. Experience her first real kiss. A kiss delivered by a boy. A boy who is not related to her. A kiss worth writing about.
2. Become a famous writer. (Or, at least, write an investigative article that will land her the freshman spot on the Blue and Gold staff.)

So when a gunshot is fired right across the street, Tree knows this is the big story she's been waiting for. But the more she goes digging, the more secrets she uncovers, and soon she begins to wonder: When is it important to expose the truth? And when is it right to keep a secret?
We Were Liars
by E. Lockhart
A beautiful and distinguished family.
A private island.
A brilliant, damaged girl; a passionate, political boy.
A group of four friends—the Liars—whose friendship turns destructive.
A revolution. An accident. A secret.
Lies upon lies.
True love.
The truth.

We Were Liars is a modern, sophisticated suspense novel from National Book Award finalist and Printz Award honoree E. Lockhart.

Read it.
And if anyone asks you how it ends, just LIE.
Nantucket Red
by Leila Howland
WARNING- SEQUEL!
Cricket Thompson's lifetime of overachieving has paid off: she's headed to Brown University in the fall, with a spot on the lacrosse team and a scholarship that covers almost everything. Who knew living in the dorm cost money? An Ivy League education seems to mean living at home for the next four years.

When Cricket is offered the chance to earn enough cash to afford a real college experience, she heads back to Nantucket for the summer. But the faraway island challenges Cricket in ways she hadn't anticipated. It's hard to focus on earning money for next year, when she finds her world opening up in entirely new ways-to art, to travel, and, most unexpectedly, to a future completely different from the one she has been working toward her whole life. A friendship blossoms with Ben, the gorgeous surfer and bartender who encourages Cricket to be free, even as she smarts at the pain of seeing Zack, her first love, falling for her worst enemy.

But one night, when Cricket finally lets herself break all her own rules, she realizes she may have ruined her carefully constructed future with one impulsive decision. Cricket must dig deep to fight for her future, discovering that success isn't just about reaching goals, but also about listening to what she's been trying to ignore-her own heart.
Subway Love
by Nora Raleigh Baskin
What if destiny leads you to your soul mate, but the laws of time conspire to keep you apart?

If her parents had never divorced, Laura wouldn't have to live in the shadow of Bruce, her mom's unpredictable boyfriend. Her mom wouldn't say things like "Be groovy," and Laura wouldn't panic every weekend on the way to Dad's Manhattan apartment. But when Laura spots a boy on a facing platform, lifting a camera to his face, looking right at her, Laura feels anything but afraid, and she can't forget him. Jonas, meanwhile, thinks nonstop about the pretty hippie girl he glimpsed on the platform — trying to comprehend how she vanished, but mostly wondering whether he will see her again in a city of millions — and whether if he searches, he would have any chance of finding her. In a lyrical meditation on love, Nora Raleigh Baskin explores the soul's ability to connect, and heal, outside the bounds of time and reason.
The A-Word
by Joy Preble
WARNING- SEQUEL!
Jenna Samuels is about to turn fifteen. It's been almost a year since her stoner brother, Casey, bit the dust. Almost a year since he returned as her guardian angel, along with his "angel boss," Amber Velasco, the hot twenty-something former EMT. Almost a year since Casey and Amber used up their one-time-only angel power of flight to save Jenna from the evil Dr. Renfroe, swooping down to catch her as she tumbled off the balcony at the Houston Galleria. In short, a lot of A-word shenanigans and a mostly happy ending.

Except now Casey's begun to wonder why he's still hanging around—not that he minds protecting Jenna. She's a handful, but there's got to be a bigger picture, right? Something to distract him from his on again/off again, doomed relationship with cheerleader Lanie Phelps, who has no idea her boyfriend is, well, dead. After all, he can't use his angel wings anymore. Neither can Amber.

Enter Bo Shivers, Amber's "angel boss"—a mysterious A-word guy Jenna and Casey didn't even know existed. Whiskey-guzzling. Handsome in a grizzled way. Unpredictable. Okay, make that crazy. Bo lost his angel wings in an earthly flight a long, long, long time back—and he's been a thorn in Angel Management's side ever since. But Bo knows something is coming. Something big. Something that was worth forfeiting wings for Jenna... something that might just change everything for everyone.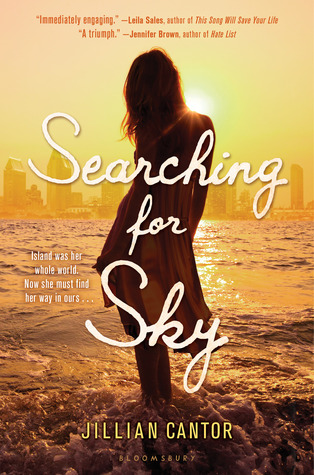 Searching For Sky
by Jillian Cantor
Sky and River have always lived on Island, the only world they've ever known. Until the day River spots a boat. Across Ocean, in a place called California, Sky is separated from River and forced to live with a grandmother she's just met. Here the rules for survival are different. People rely on strange things like cars and cell phones. They keep secrets from one another. And without River, nothing makes sense. Sky yearns for her old life where she was strong and capable, not lost and confused. She must find River so they can return to Island, but the truth behind how they ended up there in the first place will come as the biggest shock of all.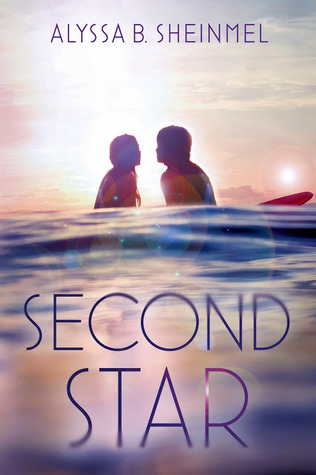 Second Star
by Alyssa B. Sheinmel
A twisty story about love, loss, and lies, this contemporary oceanside adventure is tinged with a touch of dark magic as it follows seventeen-year-old Wendy Darling on a search for her missing surfer brothers. Wendy's journey leads her to a mysterious hidden cove inhabited by a tribe of young renegade surfers, most of them runaways like her brothers. Wendy is instantly drawn to the cove's charismatic leader, Pete, but her search also points her toward Pete's nemesis, the drug-dealing Jas. Enigmatic, dangerous, and handsome, Jas pulls Wendy in even as she's falling hard for Pete. A radical reinvention of a classic, Second Star is an irresistible summer romance about two young men who have yet to grow up--and the troubled beauty trapped between them.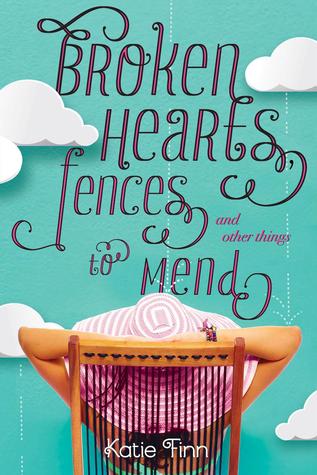 Broken Hearts, Fences, and Other Things to Mend
by Katie Finn
Summer, boys, and friendships gone sour. This new series has everything that perfect beach reads are made of!

Gemma just got dumped and is devastated. She finds herself back in the Hamptons for the summer—which puts her at risk of bumping into Hallie, her former best friend that she wronged five years earlier. Do people hold grudges that long?

When a small case of mistaken identity causes everyone, including Hallie and her dreamy brother Josh, to think she's someone else, Gemma decides to go along with it.

Gemma's plan is working (she's finding it hard to resist Josh), but she's finding herself in embarrassing situations (how could a bathing suit fall apart like that!?). Is it coincidence or is someone trying to expose her true identity? And how will Josh react if he finds out who she is?

Katie Finn hits all the right notes in this perfect beginning to a new summer series: A Broken Hearts & Revenge novel.
Of Neptune
by Anna Banks
WARNING- THIRD BOOK!
Emma and Galen's kingdom and their love is threatened by long-lost Syrena in the brilliant conclusion to Anna Banks bestselling trilogy.

Emma, half human and half Syrena, and her Syrena love, Galen, need time together alone. Away from the kingdoms of Poseidon and Triton. Emma's grandfather, the Poseidon king, suggests the two visit a small town called Neptune.

Neptune is home to both Syrena and Half-Breeds alike. But Emma and Galen didn't sign up to be peacemakers between the ocean and the land-dwelling, freshwater Syrena. They didn't bargain for meeting a charming Half-Breed named Reed, who can barely disguise his feelings for Emma. And they especially didn't expect to find themselves in the middle of a power struggle that threatens not only their love but their ocean kingdoms.

In this stunning conclusion to her bestselling Syrena Legacy, Anna Banks thrills fans with more action and romance than ever.
There Will Come a Time
by Carrie Arcos
Mark knows grief. Ever since the accident that killed his twin sister, Grace, the only time he feels at peace is when he visits the bridge on which she died. Comfort is fleeting, but it's almost within reach when he's standing on the wrong side of the suicide bars. Almost.

Grace's best friend, Hanna, says she understands what he's going through. But she doesn't. She can't. It's not just the enormity of his loss. As her twin, Mark should have known Grace as well as he knows himself. Yet when he reads her journal, it's as if he didn't know her at all.

As a way to remember Grace, Hanna convinces Mark to complete Grace's bucket list from her journal. Mark's sadness, anger, and his growing feelings for Hannah threaten to overwhelm him. But Mark can't back out. He made a promise to honor Grace—and it's his one chance to set things right.
The Sound
by Sarah Alderson
When aspiring music journalist Ren Kingston takes a job nannying for a wealthy family on the exclusive island of Nantucket, playground for Boston's elite, she's hoping for a low-key summer reading books and blogging about bands. Boys are firmly off the agenda.

What she doesn't count on is falling in with a bunch of party-loving private school kids who are hiding some dark secrets, falling (possibly) in love with the local bad boy, and falling out with a dangerous serial killer...

The gripping new stand-alone novel from the author of Hunting Lila.
Signed, Skye Harper
by Carol Lynch Williams
In trying to reunite with her mother, Winston discovers the many meanings of family and finds friendship in an unexpected place in this coming-of-age novel from the author of Waiting, which Kirkus Reviews, in a starred review, called "exceptional" and Glimpse, which Booklist called "gripping."

Life is just fine for fourteen-year-old Winston. She loves her dog, Thelma, and although she never knew her dad, and her mom left ten years ago in search of Hollywood fame, Winston has family with Nanny, who is in her forties, and that doesn't even make her old. But a "just fine" life gets a lot more exciting when a letter arrives from Skye Harper, aka Judith Fletcher, aka Winston's mother. She needs help, and Nanny says the best way to give it is to take a cross-country road trip—in a "borrowed" motor home—to go find Mama once and for all. Winston's not so sure about this plan, but with a cute stowaway named Steve along for company and an adventure on the horizon, this is sure to be a summer to remember.
Girl in Reverse
by Barbara Stuber
When Lily was three, her mother put her up for adoption, then disappeared without a trace. Or so Lily was told. Lily grew up in her new family and tried to forget her past. But with the Korean War raging and fear of "commies" everywhere, Lily's Asian heritage makes her a target. She is sick of the racism she faces, a fact her adoptive parents won't take seriously. For Lily, war is everywhere—the dinner table, the halls at school, and especially within her own skin.

Then her brainy little brother, Ralph, finds a box hidden in the attic. In it are a baffling jumble of broken antiques—clues to her past left by her "Gone Mom." Lily and Ralph attempt to match these fragments with rare Chinese artifacts at the art museum. She encounters the artistic genius Elliot James, who attracts and infuriates Lily as he tries to draw out the beauty of her golden heritage. Will Lily summon the courage to confront her own remarkable creation story? The real story, and one she can know only by coming face-to-face with the truth long buried within the people she thought she knew best.
Rebel
by Amy Tintera
WARNING- SEQUEL!
The sequel to the action-packed Reboot is a can't-miss thrill ride, perfect for fans of James Patterson, Veronica Roth, and Marie Lu.

After coming back from death as Reboots and being trained by HARC as soldiers, Wren and Callum have finally escaped north, where they hope to find a life of freedom. But when they arrive at the Reboot Reservation, it isn't what they expected. Under the rule of a bloodthirsty leader, Micah, the Reboots are about to wage an all-out war on the humans. Although Wren's instincts are telling her to set off into the wilderness on their own and leave the battle far behind, Callum is unwilling to let his human family be murdered. When Micah commits the ultimate betrayal, the choice is made for them. But Micah has also made a fatal mistake . . . he's underestimated Wren and Callum.

The explosive finale to the Reboot duology is full of riveting action and steamy love scenes as Wren and Callum become rebels against their own kind.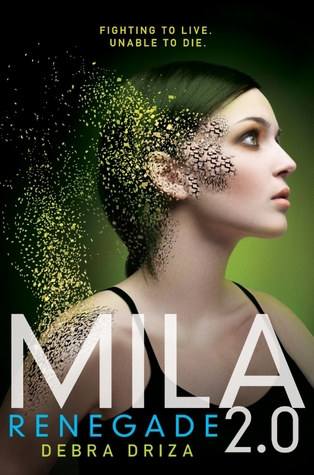 Renegade
by Debra Driza
WARNING- SEQUEL!
There is no one left for Mila to trust. Except for a boy she barely knows.

But Hunter has no idea who—and what—Mila really is. She can't bear to reveal her secret, even though he's unwittingly joined her search for Richard Grady, a man who may know more details of Mila's complicated past.

Yet the road to the truth is more dangerous than ever. With General Holland and the Vita Obscura scouring the earth for her whereabouts, Mila must rely on her newfound android abilities to protect herself and Hunter from imminent harm. Still, embracing her identity as a machine leads her to question the state of her humanity—as well as Hunter's real motives.

Perfect for fans of I Am Number Four and Divergent, this action-packed and heart-wrenching second installment of MILA 2.0 will leave readers breathlessly awaiting the series conclusion.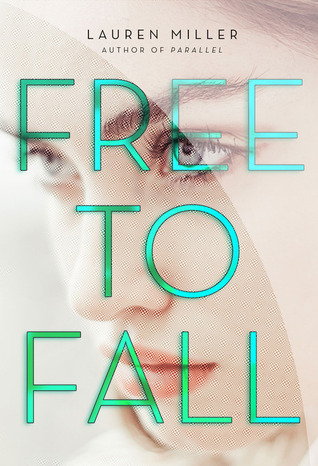 Free to Fall
by Lauren Miller
What if there was an app that told you what song to listen to, what coffee to order, who to date, even what to do with your life—an app that could ensure your complete and utter happiness? What if you never had to fail or make a wrong choice?

What if you never had to fall?

Fast-forward to a time when Apple and Google have been replaced by Gnosis, a monolith corporation that has developed the most life-changing technology to ever hit the market: Lux, an app that flawlessly optimizes decision making for the best personal results. Just like everyone else, sixteen-year-old Rory Vaughn knows the key to a happy, healthy life is following what Lux recommends. When she's accepted to the elite boarding school Theden Academy, her future happiness seems all the more assured. But once on campus, something feels wrong beneath the polished surface of her prestigious dream school. Then she meets North, a handsome townie who doesn't use Lux, and begins to fall for him and his outsider way of life. Soon, Rory is going against Lux's recommendations, listening instead to the inner voice that everyone has been taught to ignore — a choice that leads her to uncover a truth neither she nor the world ever saw coming.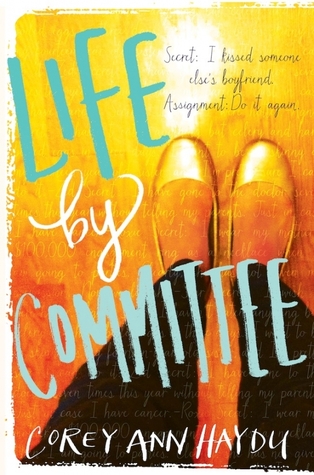 Life by Committee
by Corey Ann Haydu
Some secrets are too good to keep.

Tabitha might be the only girl in the history of the world who actually gets less popular when she gets hot. But her so-called friends say she's changed, and they've dropped her flat.

Now Tab has no one to tell about the best and worst thing that has ever happened to her: Joe, who spills his most intimate secrets to her in their nightly online chats. Joe, whose touch is so electric, it makes Tab wonder if she could survive an actual kiss. Joe, who has Tabitha brimming with the restless energy of falling in love. Joe, who is someone else's boyfriend.

Just when Tab is afraid she'll burst from keeping the secret of Joe inside, she finds Life by Committee. The rules of LBC are simple: tell a secret, receive an assignment. Complete the assignment to keep your secret safe.

Tab likes it that the assignments push her to her limits, empowering her to live boldly and go further than she'd ever go on her own.

But in the name of truth and bravery, how far is too far to go?
The Secrets of Lily Graves
by Sarah Strohmeyer
With the intrigue of Pretty Little Liars and plenty of romance, bestselling author Sarah Strohmeyer weaves a story of secrets and lies—set in a funeral parlor.

Growing up in a house of female morticians, Lily Graves knows all about buried secrets. She knows that perfect senior-class president Erin Donohue isn't what she seems. She knows why Erin's ex-boyfriend, hot football player Matt Houser, broke up with her. And she also knows that, even though she says she and Matt are just friends, there is something brewing between them—something Erin definitely did not like.

But secrets, even ones that are long buried, have a way of returning to haunt their keeper.

So when Erin is found dead the day after attacking Lily in a jealous rage, Lily's and Matt's safe little lives, and the lives of everyone in their town of Potsdam, begin to unravel. And their relationship—which grew from innocent after-school tutoring sessions to late-night clandestine rendezvous—makes them both suspects.

As her world crumbles around her, Lily must figure out the difference between truth and deception, genuine love and a web of lies. And she must do it quickly, before the killer claims another victim.
What is Hidden
by Lauren Skidmore
In a land of masquerades and mystery, Evie is a mask maker in Venesia, where masks represent rank and identity. When a cryptic bandit strips away Evie's mask and destroys her home, she goes into hiding at the palace to find both a new identity—and revenge. Fantasy lovers will be caught up by the mystique, romance, and magic of "What Is Hidden."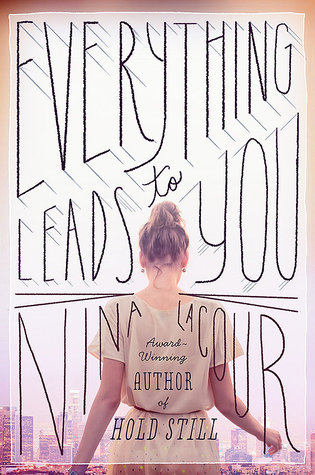 Everything Leads to You
by Nina LaCour
A love letter to the craft and romance of film and fate in front of—and behind—the camera from the award-winning author of Hold Still.

A wunderkind young set designer, Emi has already started to find her way in the competitive Hollywood film world.

Emi is a film buff and a true romantic, but her real-life relationships are a mess. She has desperately gone back to the same girl too many times to mention. But then a mysterious letter from a silver screen legend leads Emi to Ava. Ava is unlike anyone Emi has ever met. She has a tumultuous, not-so-glamorous past, and lives an unconventional life. She's enigmatic…. She's beautiful. And she is about to expand Emi's understanding of family, acceptance, and true romance.
I hope you all have an awesome week filled with reading!