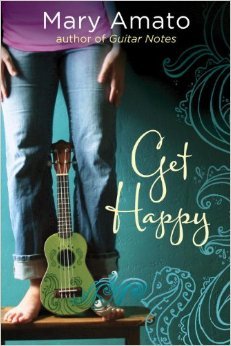 Format: Hardcover
Pub. Date: October 28th, 2014
Summary:
In this poignant, realistic, contemporary YA by a state master list star, perfect for fans of Sarah Dessen and Gayle Forman, a young songwriter builds a substitute family with her friends in place of the broken family she grew up with.

A hip high school girl who loves music, writes songs, and is desperate for a ukelele, learns to her shock that her father did not abandon her years ago and has been trying to keep in touch. She begins to investigate him, only to discover that he has a new life with a new family, including the perfect stepdaughter, a girl who Minerva despises.
My rating: 3 out of 5 songs!
My recommendation: Anyone who likes contemporary, funny books!
My review:
My copy was provided by Netgalley.
Minerva is a girl who just really wants to get a ukulele. She has a pretty small family, considering she doesn't even know her own father's name. Her mom never talks about her and for all of Minerva's life, she thought her father had abandoned her and left.
But Minerva never let the sadness get to her. She got a job at Get Happy with her best friend, a hot new guy, and a beautiful girl that makes Minerva jealous. This job is not an ordinary fast food job. No, Minerva has to dress up like a mermaid and entertain kids at birthday parties. This allows Minerva to experience the joys of making kids happy as well experience the horrors of little kids.
While dealing with her new job, Minerva discovers who her father really is and starts to investigate her father and his new family.
This book was funny and light hearted, but it was still so full of emotion. While most of this book is pure fluff about Minerva's new job, it's still ripe with emotion as Minerva learns more and more about the father who might not have abandoned her after all. The characters were funny, but at times they just seemed silly and slightly idiotic.
The plot wasn't very original and there were moments where there could've been some great romantic moments or tension-filled moments, but at times, the story just fell flat. Nothing shocking or interesting really happened. The father rarely appeared in the book and Minerva never really confronted him or admitted her true feelings.
The book was fun though and I did enjoy it. It made me laugh at times, especially over Minerva's costume. I just feel as if the book needed some more substance, some more plot. It needed some twists to keep the reader going instead of just mainly focusing on Minerva's job. While the book was mostly fluff, I did enjoy it and it made me laugh out loud a couple of times.